What is SEO?
SEO stands for Search Engine Optimization. SEO is absolutely critical in 2021 and is needed in today's competitive market to increase/improve the overall visibility and search capability of your websites in the top-most search engines (Google, Bing, etc.). Ultimately, the goal of SEO is to get a web page or website's high search engine ranking.
How does SEO work?
Every search engine (Like Google, Yahoo, Bing) has some algorithm based on which a web page(s) appear/rank in first page of search results.
You can easily understand from the below example, which shares by TriangleClick:-
Imagine, If you are driving a car and you having all the papers and registration. after that you are following all the traffic rules no one can fine your car. But the ranking higher on google is depend on driving skill.
These are the character of the Internet
Internet = Roads Connect one place to another place
Search Engine = Our destination
Website = vehicle
Domain name = Number Plate
Technical health of Website = Condition of your vehicle
SSL and other requirements = Papers Of your vehicle
Crawlers = Traffic police Officer (Strict like Dubai Police)
Indexing = RTO or registration process.
Links = Your Connections of High Authority persons
How SEO Will Change in 2021
What is On-page SEO?
On-page SEO is the one-way practice of optimizing individual web pages or websites in order to rank higher and earn more relevant traffic in search engines. This technique is helping our website to analyze the content connected to it so that search engine can identify if the searcher's query is relevant to your site.
Top 50 On-Page SEO Checklist and Techniques in 2021-22
Check Favicon
What is Favicon?
In On-page SEO, the first thing you should know is what is a favicon? Favicon is one type of small icon that appears in your browser's URL navigation bar. When your page is bookmarked, it is also saved next to the title of your URL. It helps to brand your site and makes it easy for users to navigate your site among a list of bookmarks.

How to add a favicon to your site?
See the below example, you need to have your logo created in a 16×16 PNG, GIF, or ICO image and uploaded to your web server. And then adding the following code into the header of your HTML code for your web pages:
<link rel="icon" type="image/x-icon" href="http://example.com/favicon.ico" />
<link rel="icon" type="image/png" href="http://example.com/favicon.png" />
<link rel="icon" type="image/gif" href="http://example.com/favicon.gif" />
Benefits of Favicon:-
It increases the usability of a site.
It helps a user save time, identify and browse your website without difficulties.
The favicon you seem to have a higher benefit over websites that do not when it comes to saving and keeping a website bookmark on the browser.
Content Writing and Checker
What is Content Writing?
If you want to become a perfect digital marketer or want to generate organic traffic on your webpages or websites, then the first and important step, always remember to write unique, interesting, and something new content on your blog or web pages. If you do not write Unique or Quality Content, the reader will not stay on your blog for long and they will leave your blog soon. Search Engines do not rank low-quality content.
These are the benefits of content writing for website and business are:
Social Media – If you create a blog or content of high quality then people can share it on some of the social media platforms like LinkedIn, Twitter, Pinterest, Facebook that helps in introducing your business to a new audience.
Target Audience – Writing high-quality content is one of the best methods to develop trust in the target audience that they will find it as compatible.
Lead Convert – If you write high content then you can get huge traffic on your website and business. After that, you can get new responsibility to convert them into the lead.
Increase Traffic on the website – you create the blog post on a daily basis then this will be providing fresh content to the index of all the SEO. It will help to increase the traffic on the website.
If you write content, there are many websites to check it, where you can see whether your content is duplicate or not.
duplichecker.com
smallseotools.com
plagiarismdetector.net
Copyleaks.com
Content Writing Tutorial for Beginners
3. Title Tag
It would not be wrong to say that, page Title Tags are one of the most essential SEO factors on your site. Each of your pages and posts should have its own interesting title, which includes the primary keywords for that page.

What is Title Tag?
The HTML element that designates the title of a web page is a title tag. Title tags appear on search engine results pages (SERPs) as the clickable headline. It must certainly reflect what the page is all about so that people are encouraged enough to click on it and must include keywords for search engines to comprehend the page profoundly and, Google typically displays the first 50–60 characters of a title tag.
The title tag is a very strong on-page tag indicator and carries significant weight for your SEO ranking.
Here's what we can check for when reviewing title tags:
Are your title tags unique on all pages?
Do your title tags incorporate well-researched keywords?
Are your title tags well-composed (e.g. not over-optimized)?
Are your title tags the appropriate length? (We usually aim for 50-65 characters)
4. Meta description
Meta Description is a very important part of the On-Page SEO technique. This is a short paragraph of text placed in the HTML of the webpage which explains the content of that webpage. The description should be a unique meaningful sentence and related to the content available on the same page.

The meta description is an HTML tag, which looks like this in the HTML:
<meta name="description" content="A page's description, usually one or two sentences."/>
Tips: Always remember one thing when you write Meta Description, It should be different on every single page of your website related to the content.
Here you can watch "How to writing Meta Title & Meta Description"
Check H1, H2 tag
Header tags are one of the very important on-page SEO factors because they are used to communicate to search engines what your website is about. Remember one thing that is, Search engines recognize the copy in your header tags as more important than the rest.
Example of how to use h1, h2, h3 header tags
h1 = <h1>H1, H2 and H3 Header Tags for SEO</h1>
h2 = <h2>Why are h1, h2 and h3 header tags important for SEO?</h2>
h3 = <h3>How to use the h1, h2 and h3 tags</h3> 

Benefits of Header tags:-
1. This starts with your h1 and works its way down in importance to the h2, h3, and so on.
2. These tags will help support the overall theme or purpose of your page.
Example:-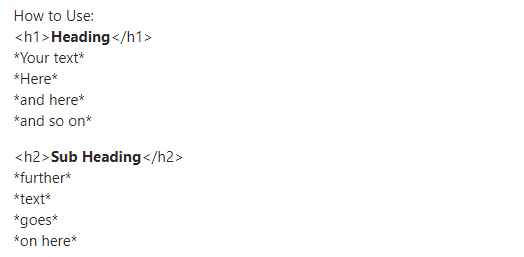 Are the H1, H2, and H3 tags still important for SEO in 2021?
The header tags are important and still hold value for SEO. While optimizing header tags is certainly still a best practice, if your (or your client's) competitors have a lot more backlinks you'll still find yourself under them in the search engine results pages.
Example:-
Imagine header tags to be similar to bullet points. Each time you drill down into a topic you'll need to generate a new h tag.
Note:- Keep in mind that it's also very important that your header tags are readable and grammatically correct.
Image Optimization
What is image optimization?
Image optimization is very important in SEO because images attract more viewers and they are also an eye-catcher, For this reason, that is why one should always use high-quality images on his/her website or blog.
These are the important steps of image optimization:-
Image Alt Text – First of all, make sure there is descriptive alt text on all images, do not stuff keywords here, and make sure file names, alt texts, captions, and descriptions are apt and crisp.
File type – Always Choose the right file type: jpg, jpeg, png, gif, etc.
Image title tags – It is necessary for SEO, it can provide additional benefits to a user.
Image Sitemaps – like XML sitemaps, the image sitemaps contain information about the images on your site. After that, This will help to get them indexed faster.
Image Size – When you upload the images to a website or blog, make sure images are compressed so they load faster. If the images are too large or cannot be compressed, consider using a CDN.
The list of best image optimization tools is as follows:-
CompressNow
Optimizilla
Compressor.io
Tinypng
Kraken.io
ImageRecycle
JPEG Optimizer
How to Optimize Images for Web and SEO
Font Readability
Having lead generation box or not
Email capture plugin
Robots.txt
Sitemap.xmp
Google Analysts installed or not
Google webmaster installed or not
Blog installed and update on weekly basic
There is no number in the URL
Use keywords in Title and description
check keywords density
check keywords stuffing
SSL- Not secure
Check is their any broken links
Redirect 404 to 305
Website must be a mobile-friendly
Social media optimization
page loading time
Check Alexa ranking
Google Search Console
Copyright
Internal Links
Anchor text Ration Handling
No Follow Links
Yoast SEO
Open External Links in New Window
Side Effects of Broken Links How To Fix?
Importance of SSL in SEO
Font readability
Avoid Aggressive Actions e.g Pop Ups
YMYL & E-A-T
How To Check Structure Data
Social Media Buttons
Indexing of your website Automatically
Keyword Targeting
Image Optimization
Image Title and Alt Image tags
Responsive video
UX User Experience
Tap Into Online Communities
First Paragraph
Snippets, Schema, and Microdata
Maximize CTR
Add a Breadcrumb menu
Mobile Friendliness