Online advertising is one of the most effective ways for businesses of all sizes to expand their reach, find new customers, and diversify their revenue streams. It is the art of using the Internet as a medium to deliver a marketing message to an identified and intended audience.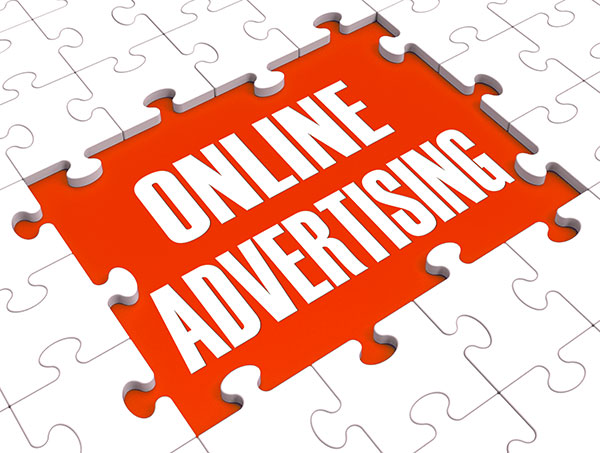 It is helpful for attracting website traffic and brand exposure, but first and foremost, online advertising designed to persuade to engage in a specific action to target customers.
The different types of Online Advertising:
Social Media Advertising
Content Marketing
Email Marketing
SEM (Search Engine Advertising) – including PPC
Display Advertising – including banner advertising & retargeting
Mobile Advertising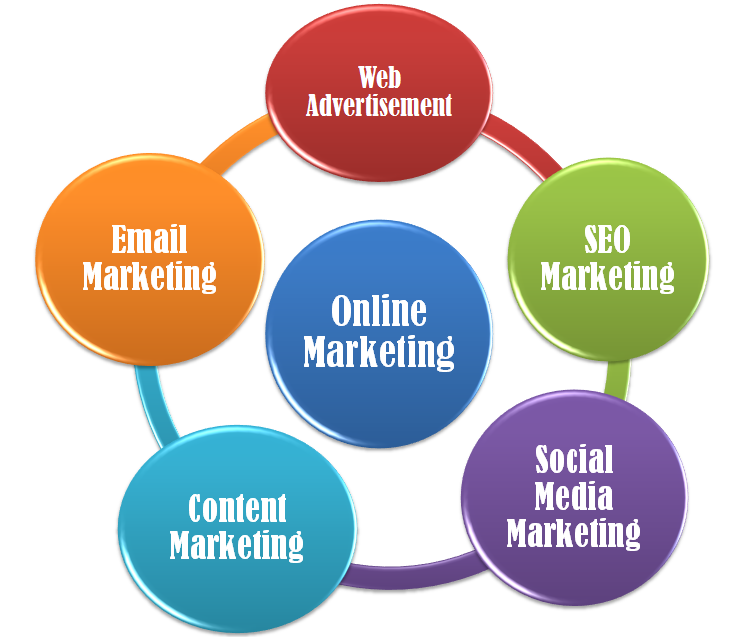 Social Media Advertising:
Once you establish a clear social media marketing strategy, you can start considering advertising on social media platforms. Most social media sites now easily allow advertisers to use their reach and promote their products from within the platform.
Most social media sites are also easily allow advertisers to promote their products in the use of your access to the forum. They also include good analysis tools to assess the success of the investment made.
Content Marketing:
Content marketing is another great way to get a brand and message in front of the right people. Its primary focus is to attract organic traffic to a website by improving the SEO of a site, but once you have a strategy and content, you can increase its reach and engagement by paying content to feature on related websites.
Paid advertising content can help increase ROI marketing, i.e. production costs without publicity can often precedes the potential returns.
Email Marketing:
Email marketing should be an integral part of your online communication because it is an important way of staying in touch with your existing customers.
Search Engine Marketing (SEM):
Search engine marketing is designed to increase the visibility of your website on the search engine results page (SERP), such as Google. This is not to be confused with SEO (search engine optimization), which is the art of looking as much as possible within search engines without paying for it.
Display Advertising:
Display advertising occurs when your ads is usually made up of branded photos, videos, graphics, or rich media content. Which when clicked, then refer the user back to your websites.
One of the safest ways to advertise online is through carefully selected website placements that will complement the position of your brand. It is one the most effective forms of display advertising is retargeting or remarketing.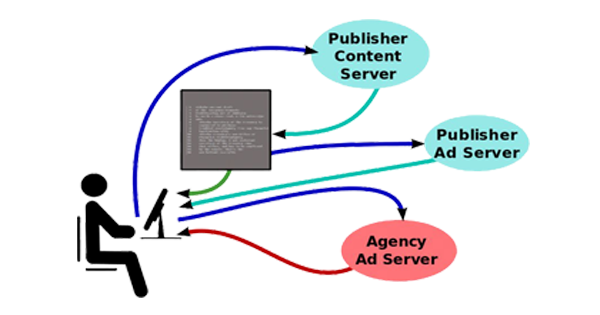 Mobile Advertising:
Many of us spend so much of their day using their smartphone, advertisers that it is not surprising that are using mobile advertising to reach your customers. Different types of mobile-specific marketing include mobile applications, push notifications, SMS / text messaging and advertisements via MMS.
Why Online Advertising is Important for Business?
Online advertising is critical to the success of an online business. Research shows that people are using the Internet to get information about products and their prices before making a final decision. This means that you can not really ignore online ads because most of your customers are researching online.
Many companies and marketers should use this modern-age advertising tool. It increases their customer base, leads generations, increases marketing reach, and ultimately helps to increase their profits.
Here the six major benefits of Online Advertising: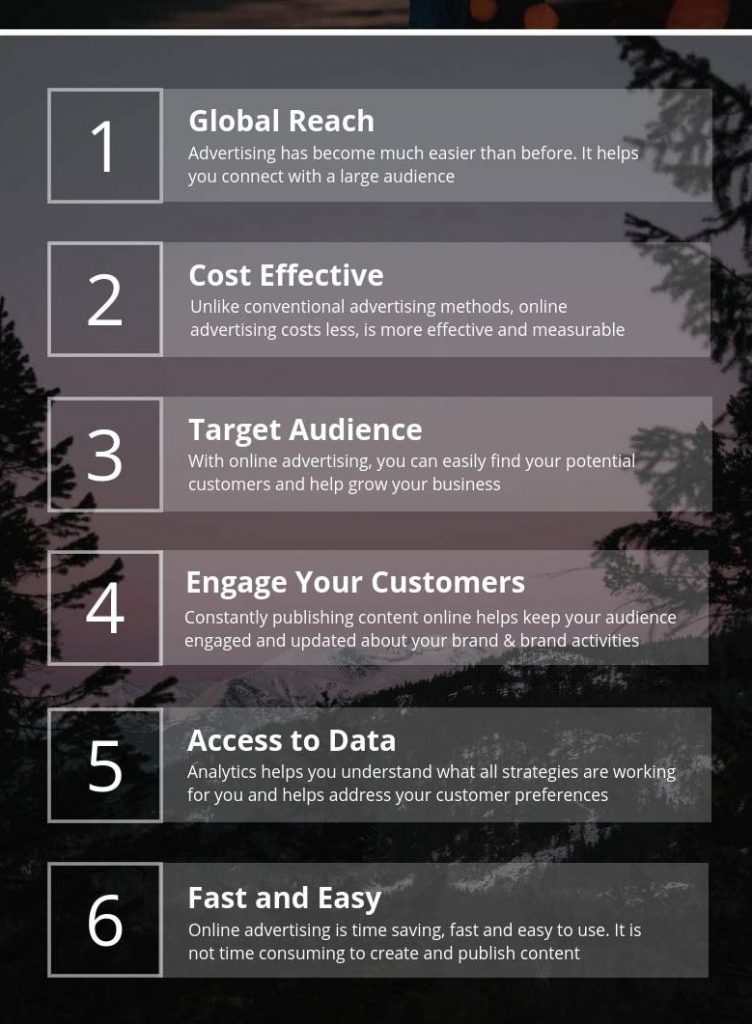 1. Global Reach:
Through Internet advertising – you can reach your target audience and also can extend your business from your local area and around the world.
2. Cost Effective:
The biggest advantage of online advertising is its cost-effectiveness. It is inexpensive and affordable for marketers to promote their business online.
3. Target Audience:
Online advertising helps you find the right audience. It targets people who are more likely to be interested in the things you sell. Online advertising tools such as online display ads, social media advertisements such as Facebook and Twitter advertisements, video ads make it easy to reach your type of target audience.
4. Engage Your Customers:
Internet is the best platform to keep your target audience more. Do thorough research on your target audience and know that they are looking for the kind of products and services and they are about your products think. Accordingly, plan your advertising campaign.
5. Access to Data:
With the help of online analytics tools, you can understand which strategies are working for you or not. You can analyze keyword data such as customer data and make any necessary changes. You can easily track conversions and measure the effectiveness of their campaigns. This data helps to identify areas for improvement in your ads and advertising strategy.
6. Fast and Easy:
Unlike traditional marketing and advertising methods, online advertising is fast and easy. Traditional advertising process is very long and it takes a lot of time. But online advertising when you start your advertising campaign, seem to be getting leads. This allows you to quickly reach their goals.
Conclusion:
Online advertising is increasingly important for companies. In fact, online advertising has become an important focus for most companies as they look to reach an audience online and increase sales.