The use of social media and social networks to sell a company's products and services is referred to as social media marketing (SMM). Facebook, Instagram, Twitter, LinkedIn, Pinterest, and YouTube are the most popular social media platforms at the time. Companies can use social media marketing to communicate with existing consumers and reach out to new ones while also promoting their intended culture, mission, or tone. Marketers can track the success of their efforts using social media marketing's purpose-built data analytics tools.
There are Five Core Pillars of Social Media Marketing –
Strategy
Planning and Publishing
Listening and Engagement
Analytics and Reporting
Advertising
Benefits of social media marketing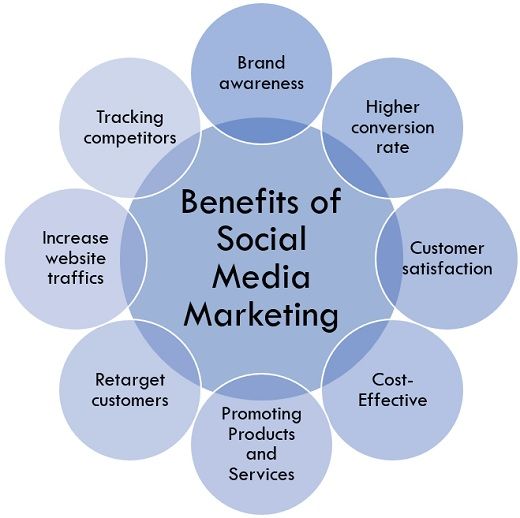 Here are some of the specific benefits of social media marketing:
Make your company more human – You may use social media to transform your company into a market participant. Your profile, posts, and interactions with other users all contribute to the creation of an approachable persona that your audience can get to know and trust.
Traffic control – Social media is a top avenue for driving traffic to your website where you may convert visitors into customers, thanks to links in your profile, blog post links in your articles, and adverts.
Create new leads and customers Through features like Instagram/Facebook stores, direct messaging, call to action buttons on profiles, and appointment booking options, you may also create leads and conversions directly on these networks.
Improve brand recognition – The visual nature of social media platforms helps you to develop your visual identity and increase brand awareness across a large audience. And increased brand recognition translates to improved outcomes in all of your other initiatives.
Establish connections – These platforms allow you to engage with your followers in both direct and indirect ways, allowing you to network, get feedback, hold debates, and connect directly with individuals.
Important strategy for a successful social media marketing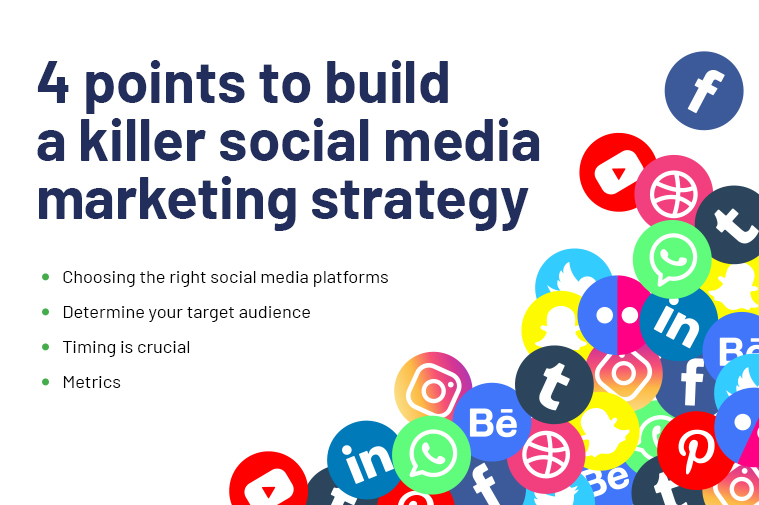 Knowledge about your audience – What platforms they use, when and why they use them, what content they enjoy, who else they follow, and so on.
Identity of the brand – What message do you want to send to your target audience? What do you want them to think when they're watching your video?
Content marketing strategy While social media allows for some spontaneity, you'll need a systematic content strategy to maintain a consistent voice and produce high-quality content on a regular basis.
Analytics – Quantifiable data will guide your strategy, including who you're targeting, what material to provide, when to post, and more.
Consistent activity – Social media is a platform that operates in real-time. You must publish consistently, stay on top of engagements with your business, engage back, keep up with trends, and maintain accurate profiles if you want to use it to promote your business.
Inbound approach – Don't pitch your business on social media. Concentrate on providing value to others by creating helpful and intriguing material and empowering others around you. As a result, your business will grow organically, and people will advertise it for you.
How to create your social marketing plan
Decide which platforms you want to use – Choose your platform depending on your target demographic, prominent platforms in your sector, and your bandwidth. Take on only as many platforms as you can actively maintain. You can always start with one and work your way up as you gain experience.
Decide on your goals and objectives – To begin, these should be short and task-like, such as posting once a day for a month, setting up your profiles, or conducting a competitive analysis. Once you've established a routine and gathered data, you'll be able to set more specific and strategic goals, such as increasing your following by X% or publishing X [content kinds your audience enjoys] every month.
Report and change on a frequent basis Use the analytics on each site to observe which posts garner the most engagement, if you're gaining more followers, and who your audience is. What works should be harnessed and scaled up, while what doesn't should be eliminated.