Today, there are more than 2 billion active website worldwide and each of these website are practise hard to be recognize or for gaining attention in the search engine results pages of search engines like Google, Yahoo, Bing, and more. For this job to be done we use SEO.
What is Search Engine Optimization (SEO)?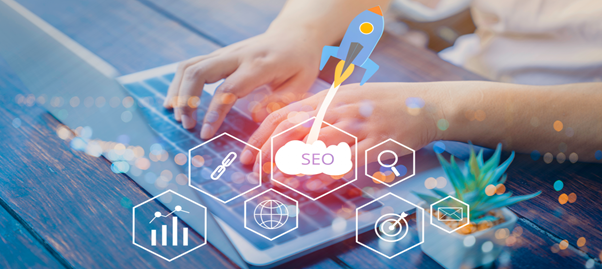 Search engine optimization (SEO) is the process of improving the quality and quantity of website traffic to a website or a web page from search engines. This is the process of improving your site for increase its visibility when people search for products or services related to your business in Google, Bing, and other search engines. SEO is still the king for organic and Content discover, after all. In this blog we will going to discuss the potential of SEO Career in 2021, and also learn about the 7 most popular job roles you can get as a fresher and experienced SEO professionals if you willing to take a next step in your career.
An SEO professional is an expert and well known learning and mastering the algorithms on which search engines like google search results works, by using that expertise for their clients or company for a better ranking position on SERPs.
Today, SEO is taught as part of digital marketing Certification course, and many SEO professionals learn skills from classes and certifications, and then go for their job role to earn salaries with their level, job role, and the size of the company they work for. Today so many SEO professionals are demand with must have skills in the area such as data analytics, Content writing, Smart marketing strategy, research, HTML, link building, competitor analysis, and most important keyword research. Also they expertise in using SEO tools in an effective way.
So, the big question is how do you enhance you option in your SEO career? When you mastered you skills and expertise of search engine optimization, what is the next step to be done to add value to your career? In my experience, most SEO professionals stay in marketing domain, and sharp their analytical skills and enhance their deep learning experience in digital marketing to dig down for a better successful careers in SEO.

Here are 7 most in demand roles and career option for a fresher and experienced SEO professionals looking to take the next step in their career.
Search engine optimization (SEO) and search engine marketing (SEM) are very similar, but it is different when it execute in practice. SEM is much broader and incorporates SEO. SEM profile demands new skills like Pay per Click marketing (PPC), smart advertising, and customer relationship management, Responsibilities are to work to market to consumers as well as for SERPs. There are also so many SEM professionals specialize solely in paid search.
Pay Per Click Marketing (PPC)
Advertising
Managing Customer Relationships
Search Engine Marketers earn an average salary of $47,267 per year.
Business Marketing Consultant
SEO specialists are also go for become a professional business consultants, and also marketing consultants. This particular roles requires skills and ability to work with companies, or client to improve their marketing and strategic planning. Mostly working as a consultant will require you to work with clients and also provide solutions at their specific requirement, plan and smart strategy for implementing search and other marketing steps, also looking for existing strategy and looking for its effectiveness of existing strategies and provide long-term support to those companies. In simple word, consultation is an ideal job if you are idea and strategy driven.
Client based Consultancy
Planning and implementing marketing Strategy
Manage Public relation with ease.
Business Marketing Consultant earn an average salary of $59,101 per year.
Moving into digital marketing domain is an easy way to utilize your SEO expertise if you looking to enhance your career option and increasing your salary. Digital marketers comes with a typical role of handling all kind of online marketing practice like SEO, SEM, PPC, and social media.
It required best knowledge for creating and implement smart and effective marketing strategies, utilize SEO tools, play with content planning, understand the trend and use social media platform for interaction and long-term strategies, use analytics and data management, and work with advertising platforms to drive paid traffic.
Utilizing SEO.
Planning Content
Social Media to Advertise and promote
Business Marketing Consultant earn an average salary of $47,845 per year.
Data analytics is a large part of search optimization and as an SEO specialist you are likely very familiar with it. As a marketing analyst, your roles and responsibilities are to track the performance of existing plan and strategy effectiveness, discover new opportunities for growth, and generate forecasts and reports based on active data. Tracking performance of the organization.
Generating forecasts and future trends.
Creating reports based on the data.
Marketing analysts earn an average of $53,187 per year.
Content marketing is a next quality step for SEO professionals who is comfortable working with content more than links building and scary numbers. It require skills like creating quality content for web content, interactive blogs, outreach material, reports, and other content for audience interaction .So main role are there but may your specific role is decide asper company requirement you looking for. Mainly content marketing professionals working with team of marketing on the content decisions in a marketing plan.
Creating web Content.
Designing quality Blogs, Videos and graphics.
Decision making in marketing plan and execution.
Marketing analysts earn an average of $57,901 per year.
Search engine optimization often requires a team of analysts, data managers, SEO specialists, content strategists, technology experts, and so on. The team size totally depends on the size of a particular company. The larger the company their SEO team will be big as perrequirment, and also the more they will benefit from an SEO manager. SEO Managers have better understanding of search engine optimization along with search engine marketing. If you are people oriented, this can be more exciting than SEO itself.
Search Engine Marketing (SEM) Administer.
Managing various teams from SEO to Content.
Starting with sales marketing.
SEO managers earn an average of $65,871 per year.
Starting your own business permits you to bring your skills as a groundwork Engine improvement specialist and provide them to businesses on your own terms. Sadly, your remuneration will greatly vary reckoning on your business, your launch, and also the services you provide, therefore there's nobody set general remuneration for those that like better to begin a business in SEO or in digital promoting. However, if you are doing have one thing to supply to businesses, value more highly to work on a contract basis, or have another excuse to launch your own company, beginning your own business may be bounties and profitable within the long run.
Final Words
SEO is a GREAT Career in 2021!
People who make the most money in the SEO industry focus on the latter two options of client SEO and building out websites. The possibilities are always endless when you build a career in the SEO domain. SEO as a skill is very valuable in today's world, it's challenging to master and every business can benefit from it and always looking for a good SEO Specialist.
Search engines have brought so many unique updates, which has made everything smarter than ever. Search engine algorithms keep changing time to time, you need to keep your finger on the pulse by reading a lot. SEO career opportunities are on the boom today, and we invite you to check out our well researched and comprehensive courses to walk you through.
If you wish to explore and become an expert in Digital Marketing, check Digital Marketing Advance Training by DevOpsSchool.com and become an expert in social media marketing, content marketing, branding, marketing analysis and PR and start your career in this trend of Digital world.
If hope this particular blog is helpful and informative for you.
Thank you !!