Search engine is what we see in Google after searching for something. There are other search engines are also available like Yahoo, Google, Bing, etc., but we will focus on Google here as this blog belongs to Google and Google is the one who holds over 80% market share.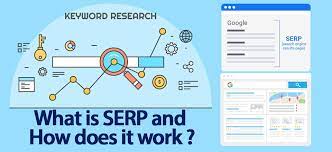 What is SERP
Search engine results pages (SERP) are web pages shows to users when they search for something online using a search engine, such as Google. The user enters their search query , upon which the search engine shows them result.
SERPs tend to comprise organic search results, paid Google Ads results, Featured Snippets, Knowledge Graphs and video results.
Types of result in SERP
1. Organic Results
2. Paid results
Organic result – Organic results are lists of web pages that shows as a outcomes of the search engine's algorithm. The search intentions (people search with different intentions) falls into three categories:
Navigational queries – Navigational search happens when someone searching for a particular website, but doesn't type the site's full URL.
Transactional queries – People do transactional searches when they intent to buy something, like a specific product or item.
Informational queries – People make an informational query when they'd like to learn something.
Paid result – Paid results are paid to be displayed by an advertiser. paid results can take a wide range of forms, and there are so many advertising formats that serve to the needs of advertisers.
Paid search results often fall into the internet structure of pay-per-click (PPC) and cost-per-mille (CPM).
PPC – You pay when searchers click on your ads which shows on top of any website in search engine result.
CPM – It is also known as Cost per thousand, and is used to denote the price of 1,000 advertisement impressions on one web page. If a website publisher charges $1.00 CPM, that means an advertiser have to pay $1.00 for every 1,000 impressions of its ad.
Importance of SERP
May be you already know that people can't visit your website if they are not able to find it. So, it's necessary for you to focus your attention on reaching the top on SERPs. A top position can make a huge difference in the success of your digital marketing campaign.
As a matter of fact, several study results shows that:
The top result on a SERP gets around 20% of all clicks
Over 90% of all users never go for second results page
It is equally important to be in the top paid results as well
you can see majority of Internet users prefer to choose an option from the first results page. Hence, a higher SERP ranking guarantees more traffic for your website. With such free tools like Google SERP Features from Advanced Web Ranking, you will get huge amounts of SERP data each month, collected from million of queries. Moreover, you could keep up on how search is changing over time.
How SERPs can affect SEO
SERPs give your business an arena to compete with other websites to get the most traffic by ranking number 1. Just like picking a perfect physical location, doing proper SEO gives your business an edge. Leveraging this arena well will help attract more prospects to your pages.
Here is how SERPs matter for SEO:
Increase click-through rate with titles and descriptions – Every part of SERP is important. Promoting each part goes a long way in increasing the chance of users clicking on your results over other countless results. A section you can improve is the text-based result with a title and meta descriptions that people scan as they scroll down the SERP. By improving, we mean coming up with engaging titles as well as meta descriptions to boost your ranking, which results in success on SERP.
Raise brand awareness with searchable URLs – You can enhance your SEO campaigns and make your pages stand out by using searchable URLs. These URLs, together with domain names, play a crucial role in increasing brand awareness.
Gain local business with Google My Business – You can promote your online presence by registering for Google My Business. Once you register, people can locate your business contact details, physical location, and so on when combing the web.